A new comic book series imagines a Detroit where racial unrest is inflamed by a violent serial murderer.
Rodney Barnes' Killadelphia is easily one of the more inventive horror comics to come along in many years, given how the series combines vampire horror with a very grounded look at crime, corruption and murder in a major American metropolis. Fans of that series will definitely want to keep an eye out for Barnes' next horror epic, a period piece dubbed The Butcher of Black Bottom.
This new slasher horror series pairs Barnes with Argentinian artist Germán Erramouspe. The Butcher of Black Bottom will debut digitally on Barnes' Substack channel, Dark Apocrypha Presents, and will later be released in print form through his Zombie Love Studios imprint.
Check out the slideshow gallery below for an exclusive first look at The Butcher of Black Bottom:
The Butcher of Black Bottom: Exclusive Preview Art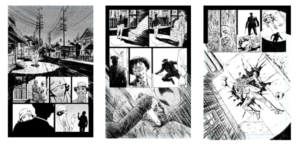 There are no vampires to be found this time (that we know of), but plenty of blood will be spilled all the same. The Butcher of Black Bottom is set in 1920's Detroit, a time when the city is seeing a large influx of African American migrants from the South and racial tensions are reaching a boiling point. Adding fuel to that fire is the titular serial killer. Has Detroit attracted its own Jack the Ripper?
"The Butcher of Black Bottom speaks to the struggle to find racial harmony in a post-Civil War America. Where the migration of blacks from the south meets an industrializing north wrestling with its own issues," said Barnes in a press release. "As one might imagine finding peace was no easy chore."
This series is one of several new horror projects Barnes is debuting in 2022, alongside previously announced books like Blacula (an adaptation of the 1970's Blaxploitation film) and Crownsville, a ghost story set in a black insane asylum.